'69 Yearbook & Program
You can see our 1969 senior annual online, and if you join classmates.com (it's free), you'll see a larger version than if you don't. The 1968, 1967 and 1966 annuals are also online.
---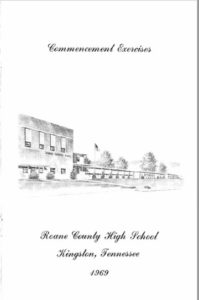 Our graduation ceremonies were June 2, 1969, at 7:30 p.m. Here is the Commencement Exercises program, which also includes programs for Class Night (May 23) and the Baccalaureate Services (June 1).
---
1968-69 RCHS School Year
September 3 (Tuesday) Class Work Begins
November 28-29 (Thursday-Friday) Thanksgiving Holidays
December 20 (Friday) Last Day of Class Work before Christmas
January 6 (Monday) Resume Class Work
April 4-7 (Friday-Monday) Easter Holidays
May 28 (Wednesday) Class Work Ends
June 2 (Monday) Commencement